Sheopal's Beard Oil starts giving results in 10 days, and after a month you would realize your beard is getting thicker and fuller. Sheopal's Beard Oil is formulated carefully to support the natural beard-growing mechanism.
Benefits

Infused with natural ingredients to moisturize dry skin and soften your beard.
Moisturizes dry skin under the beard.
Apply a few drops daily (more for longer beards) onto your palm then work treatment into beard and skin.
Helps you feel and be your best self every day.
Direction to Use
Step 1
Dispense a few drops of beard oil into the palm of your hand.
Step 2
Rub hands together to distribute the oil.
Step 3
Work into the beard and skin.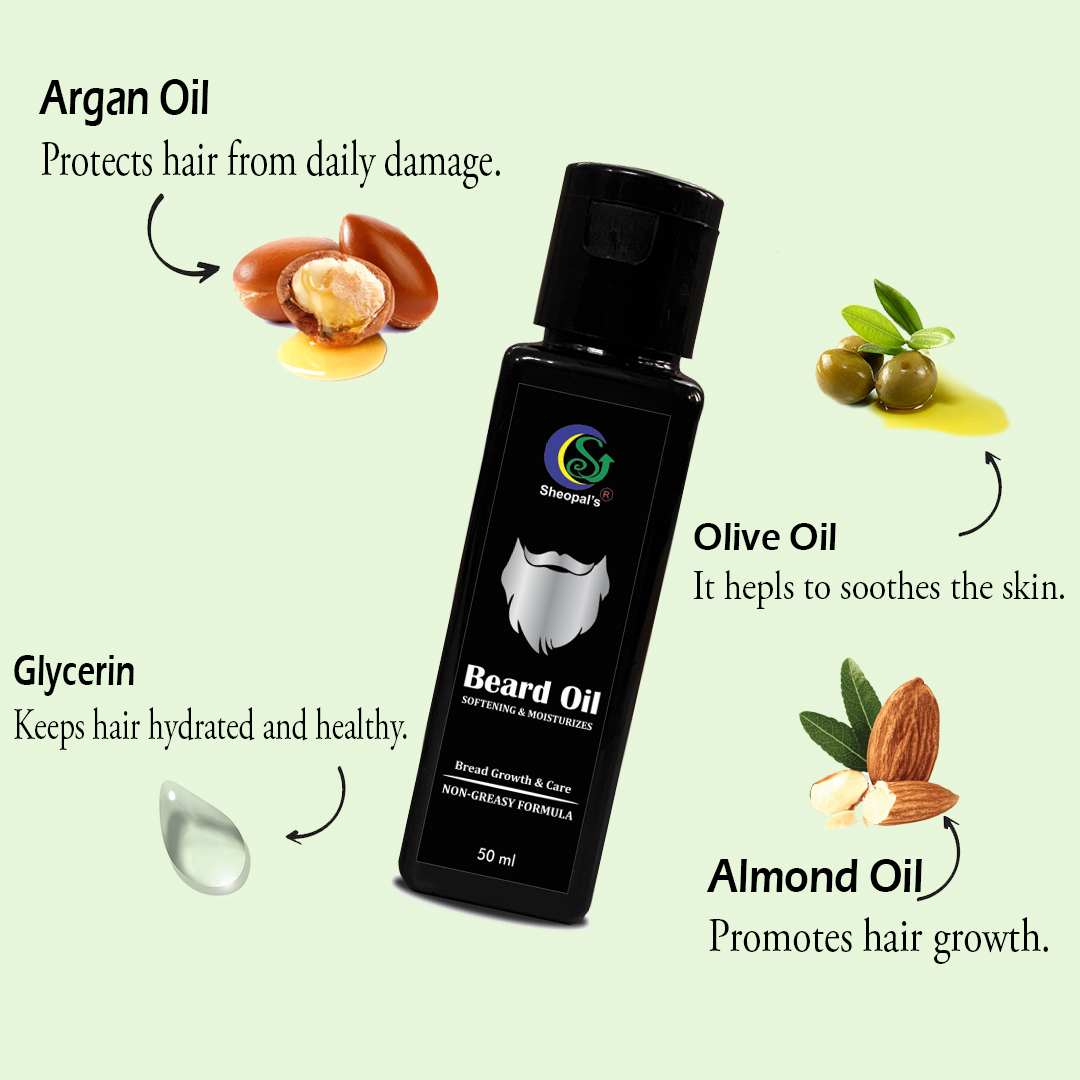 Ingredients
Argan Oil: This improves scalp health, Prevents hair loss.
Olive Oil: It soothes the scalp, It reduces DHT production.

Almond Oil: To treat dandruff and hair damage.
Glycerin: Keeps hair hydrated and healthy.
Disclaimer
1. The product contains natural ingredients and may change color & fragrance, without losing effectiveness.
2. Even natural ingredient can cause & trigger existing allergies. A patch test is recommended.
3. In case of any rashes or allergy, please consult a specialist.
4. All images shown are for illustration purpose only, actual results may vary.
5. For external use only store in a cool & dry place.
6. Results may vary from person to person.
Shiny and smooth beard!

Thanks for making this product. This oil is best for those who passionately want dense beard.

Excellent

Excellent quality ! I recommend 100 % this product
Client service
Have a question?
You may contact us!
OUR CONTACTS:
Mon-Sat: 9:00 am - 6:00 pm

Delivery:
Free delivery on all orders of Rs. 499 and above.
PAYMENTS:
Visa, MasterCard, JCB, American Express, Discover, Diners Club.
RETUN OR CANCELLATION POLICY:
You can choose to cancel or return a placed order at any time. If unfortunately you have to cancel or return any order, please do so within 24 hours of placing the order. Please note: Shipping charges will be deducted for shipped orders that are cancelled or returned. To cancel your order, contact our customer care agents.
Do you like any template? Apply its settings to your store — just select the template you like and press the «Apply» button of the desirable one. Templates can be switched at any time.
Applying a new template overrides the settings. Press «Copy» and paste it into any text file to save your current settings.
Import